Over the past year I have not had the time to write as often as I would like, but I have been a little distracted. Exactly one year ago on January 25th 2014 we walked in a house to look at it for the first time. With every possible barrier in our way we finally closed on our house on May 9th. When I say everything possible I'm not joking. During the entire purchase process if it could go wrong, it did. From the paperwork, to the loan process, appraisal process, it was all crazy. I think we thought the whole deal was going to fall through at six separate points. We held on and trusted God to work it out and through four changes on our closing date we finally closed on May 9th.
Then began the process of permitting and town zoning. Two months later we began construction in July.  Our contractor did all of the work on the 300 Sqft addition. We gutted the existing bathroom and kitchen, installed all of the tile in the master suite, refinished the hardwood floors, repainted every paintable surface inside and out, and installed flooring in the rest of the addition.
Seven months after closing we moved into our home in November. We will continue to finish small projects here and there as it will need many other things as time goes on. Here is our before and after on the exterior.
Before: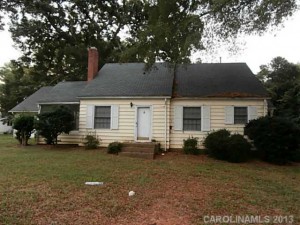 After: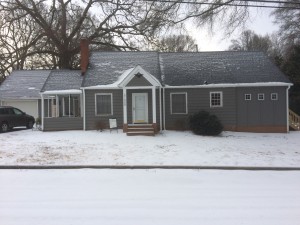 Since this last photo was taken we finished the front porch, painted the garage, and put new gutters on.
Wow what a ride the past year has been. From the points we thought we would never own a home,  frustrations and moments of "intense fellowship" from a rough day of renovating after getting home from work, to finally moving in and enjoying the holidays in "Our Home." I'm glad to be able to walk through this whole process with my best friend by my side.